A Maps & Graphics Company
Source of wall maps for business for over 30 years.
For custom business maps please send us an email subject line "map" with your specs & contact info then we can put together a quote and sample images for you.
We are working on a new web site and new shopping cart. If the map you would like does not yet have "add to order" working, please call or email... 770-443-8808
thank you for your patience!
Of course you can call us! We are always glad to speak with a
live person!
M-F 9:00am-6:00pm EST
to verify or place an order.
Alternate for leaving a voice message please send us an email


UNITED STATES WALL MAPS
REGIONS USA SALES & MARKETING WALL MAPS
DIGITAL MAP images
Digital map images, several styles of printable maps for Professional Business Presentations,
Marketing and Logistics.
Choose from various maps of United States, USA Regions, and all the States.
Map images of the World, Continents, and more...hi-res color maps-.jpg images.
UNITED STATES COMMERCIAL WALL MAP
DESIGNED FOR EXECUTIVE OFFICE, CONFERENCE ROOM
click on map for zoom section to view high detail level. Large Wall Map includes counties, cities-towns, highways and more
Background Coloring Options... contrasting PASTEL COLORS BY STATE, OR IN EARTH TONES greens and browns by elevation: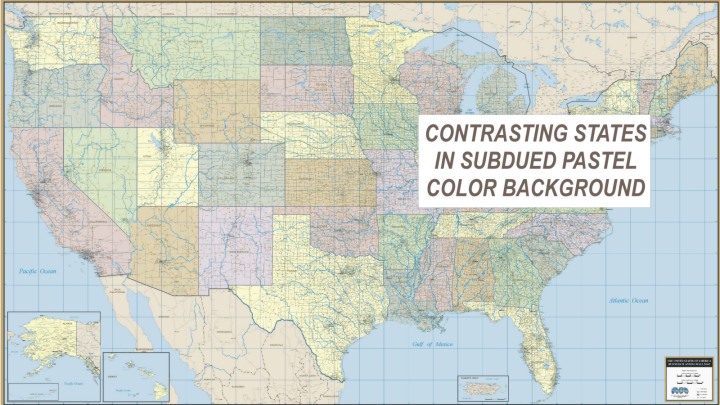 Impressive, attractive, sophisticated AND highly functional large
United States wall map designed for professional office, marketing headquarters, transportation/distribution or executive boardroom. Choose pastel contrasting colors by state...
...OR...(SCROLL DOWN)
for the first time, a business wall map of the United States, highly detailed, on a beautiful topographic greens/browns -physical color background by elevation in decorative earth tones...a perfect business wall map for conference room, logistics, market/sales planning and travel...
WE CAN PRINT YOUR COMPANY LOGO IN THE TITLE BLOCK, *NO EXTRA CHARGE
LARGE U.S.A. WALL MAP - 8 FT WIDE Laminated, very detailed showing Counties with names, Cites & towns, even towns under 2,500 population, Interstate, Federal & major State Highways, Major Parks, Rivers & Lakes, Showing inset of Puerto Rico, Alaska, Hawaii and adjacent portions of Mexico & Canada with their States, Provinces, Capitals & major cities- quite possibly the most detailed wall map available for the United States.
ALSO AVAILABLE SUPER SIZE- 12x7 feet shipped rolled and laminated
PRINTED IN 3 SECTIONS, with overlap on each piece for matching, to be assembled at your site. It is best to mount directly to wall and trim in wood molding, if you wish to frame this large map.