A Maps & Graphics Co.
Source of office wall maps for businesses for over 30 years.
For custom business map please send an email, with your specs & contact info so we can put together a quote and sample images for you.
contact us
Hope all is well where you are!


In reference "site not secure", secure socket layer encryption is not required or necessary on any regular static web page. Any of our pages with forms being filled in with your information (such as an order) are only processed on an encrypted server-SSL, A1 rated & PCI compliant.
Google & Microsoft are aware what pages may (or not) pose a security risk, but now small companies have to purchase SSL certificates for entire site static pages because of their generic "warning" notifications to potential customers (as if this past year was not difficult enough).

Online ordering still under construction...Of course you can call us! We are always glad to speak with a
live person! 770-443-8808
M-F 9:00am-6:00pm EST
to verify or place an order.
OR email to: mapwench@gmail.com

UNITED STATES WALL MAPS


REGIONAL USA SALES & MARKETING WALL MAPS

DIGITAL MAP images
We can email you Digital map images. Choose from several styles of printable maps for Professional Business Presentations,
Marketing and Logistics.
United States, USA Regions, and all the States.
Map images of the World, Continents, and more...hi-res color maps-.jpg images.
Metro Atlanta Business Planning ZIP Code Map

PROFESSIONAL MAP OF ATLANTA GA REGION - BUSINESS MAP RESOURCE FOR THE METRO REGION OF NORTH GEORGIA, A LAMINATED WALL MAP PERFECT FOR EXECUTIVE OFFICE, REAL ESTATE, SERVICE DISPATCH, GENERAL ROUTING, PLANNING, MARKETING OR SALES TERRITORY MANAGEMENT.
ATTRACTIVE COLOR WITH HIGHWAYS, MAJOR ROADS AND 5-DIGIT ZIP CODES
scroll down to see detail level...
SAVE TIME AND FUEL BY USING DETAILED SCHEDULES & ROUTE PLANNING

OVERVIEW OF

METRO ATLANTA

MAJOR STREETS & HIGHWAYS

MANAGE SALES & FRANCHISE TERRITORIES BY ZIP CODES

COVERS 40+ GREATER ATLANTA COUNTIES IN COLOR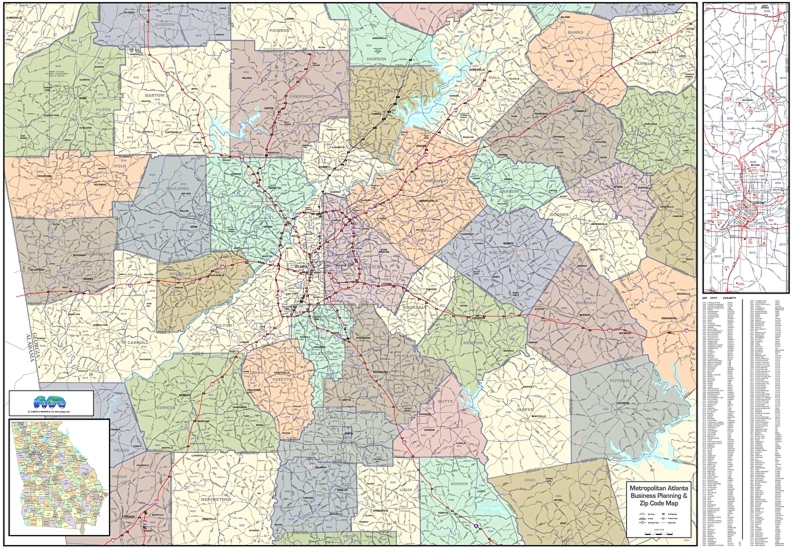 CHECK THE DETAIL...Major streets, highways, exits, major malls, cities, counties, 5-digit ZIP code boundaries, plus Downtown-Buckhead inset on right side with index.
Business Planning & Zip Code Wall Map Metropolitan Atlanta Region covers more than 40 Atlanta surrounding counties with Interstates & exit numbers, federal & state highways, primary streets, suburbs, cities & towns, major landmarks/ points of interest.


WIDER, EXPANDED REGION AREA COVERING MORE OF OUR SPRAWLING METROPOLITAN ATLANTA AREA & IT'S NORTH GA SUBURBS
Need to take up less wall space?
MEDIUM-SIZED ATLANTA REGION WALL MAP- 54x35"
back to Atlanta Area Maps page
ALSO, HERE'S SOME ATLANTA & GEORGIA PUBLIC INFORMATION LINKS...
City of Atlanta official web site
http://www.atlantaga.gov/how-do-i
http://www.atlantaga.gov/residents/city-directory
Atlanta Regional Commission web site - http://www.atlantaregional.net/
For transportation and traffic information
http://www.ajc.com/traffic/
http://www.wsbtv.com/traffic
State Dept of Transportation Web site http://www.dot.state.ga.us