Of course you can call us and speak to a live person! 770-443-8808


M-F 9:00am-6:00pm EST


For custom map request please send an email, with your specs & contact info so we can put together a quote and sample images for you.



ATLANTA REGION WALL MAP

UNITED STATES WALL MAPS

U.S.A. REGIONS

DIGITAL MAP images
We can email your Digital map images. Choose from several styles of printable maps for professional presentations, website images and reports. Map images of the United States, USA Regions for marketing, all US States. Continents and the World, High resolution print color or white background maps.
Metropolitan Atlanta Business Planning ZIP Code Map

68X48" WALL MAP OF ATLANTA GA REGION - LARGE LAMINATED BUSINESS OFFICE MAP OF THE METRO AREA AND N. GEORGIA
scroll down to see detail level...
SAVE TIME AND FUEL BY USING DETAILED SERVICE SCHEDULES ROUTE PLANNING

OVERVIEW OF METRO ATLANTA MAJOR STREETS HIGHWAYS

MANAGE SALES & FRANCHISE TERRITORIES BY COUNTY OR ZIP CODE BOUNDARIES

COVERS 40+ GREATER ATLANTA COUNTIES IN CONTRASTING COLORS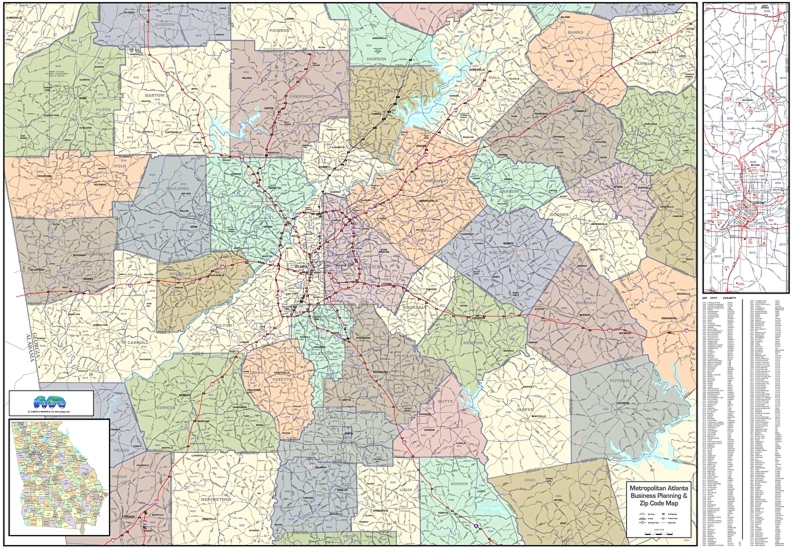 Metropolitan Atlanta Region Business Planning Zip Code Wall Map
Covers all or part of 40 Atlanta surrounding counties outlines 5-digit ZIP code boundaries, Interstates & exit numbers, federal & state highways, primary streets, suburbs- cities & towns, major water features, state and national parks. Downtown-Buckhead inset on right side, and index listing city-county-zip code
CHECK THE DETAIL

Need to take up less wall space? Check out the smaller version
MEDIUM-SIZED ATLANTA REGION WALL MAP- 54x35"
ALSO, HERE'S SOME ATLANTA & GEORGIA PUBLIC INFORMATION LINKS...
City of Atlanta official web sites
http://www.atlantaga.gov/how-do-i
http://www.atlantaga.gov/residents/city-directory
Atlanta Regional Commission web site - http://www.atlantaregional.net/
For transportation and traffic information
http://www.ajc.com/traffic/
http://www.wsbtv.com/traffic
State Dept of Transportation Web site http://www.dot.state.ga.us