MAPS CAN BE INSERTED INTO WORD Processing, POINT PRESENTATION PROGRAMS, AND DESKTOP PUBLISHING. EASILY OPENED/IMPORTED IN MANY
IMAGE EDITING, PHOTO, OR PAINT TYPE PROGRAMS.
MOST PROGRAMS...FILE-IMPORT, OR INSERT-PICTURE.
TO BE SURE SIZE FITS THE PAGE, SCALE WITH AN IMAGE EDITOR...
OR ...
SET MAP TO PRINT "FIT TO PAGE" IN YOUR PRINTER'S SETTINGS MENU.
RASTER IMAGE FILES - NOT FULLY EDITABLE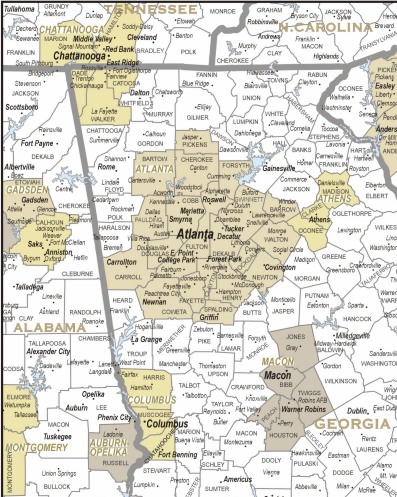 Disclaimer...
TO IMPORT INTO YOUR PROGRAMS PLEASE CHECK YOUR SOFTWARE DOCUMENTATION FOR INSTRUCTIONS BECAUSE

**WE CANNOT PROVIDE TECHNICAL SUPPORT, RETURNS, OR REFUNDS ON DOWNLOADED MAPS.**

IF THERE IS A PROBLEM WITH THE MAP FILE, DOWNLOAD ONE MORE TIME TO BE SURE THE DOWNLOAD WAS COMPLETE, AND IF NECESSARY CONTACT US BY EMAIL FOR A REPLACEMENT FILE.
PLEASE LET US KNOW IF THERE IS A MAJOR ERROR ON A MAP AND WE WILL MAKE THE NECESSARY CORRECTIONS.
THANKS!
THE IMAGE HERE IS A SECTION SAMPLE ONLY TO SHOW THE MAP DETAIL, WITH A RESOLUTION AT
72 DPI FOR INTERNET / WEBSITE USE...

THE MAP TO BE DOWNLOADED WILL BE
300 DPI- 4 TIMES HIGHER... FOR DETAIL & CLARITY WHEN PRINTED AT STANDARD PAGE SIZE, A RASTER IMAGE FILE IN VERSATILE .JPG FORMAT
UNLIMITED USE...ONLY $19.95
Please read important information...
like what happens when you press download, file delivery, license agreement, usage terms and all that... click here DOWNLOAD INFO & AGREEMENT
back to GEORGIA MAPS main page...
Hardcopy...
ALL OF OUR DIGITAL MAPS ARE AVAILABLE AS QUALITY PRINTS, MOUNTED PIN-BOARD, LAMINATED
& FRAMED IN CONTEMPORARY METAL MOLDING IN YOUR CHOICE OF gold, silver or black. Custom woods also avail
APPROXIMATE SIZE 18X24"
SPECIAL - mapwench@gmail.com
$129.00 INCLUDES CRATING AND SHIPPING For a Limited Time
(in Continental USA only)
and print your logo or title on the map legend free of charge if you email us a good digital file
MAKE GREAT GIFTS
**MAPS ALSO AVAILABLE AS VECTOR FILES IN FULLY EDITABLE LAYERS FOR GRAPHICS USE IN FILE FORMATS LIKE... .CDR, .AI, .EPS, OR .DXF
FOR INFO ON LICENSING FOR USE OF A VECTOR MAP FILE
OR WE CAN CREATE A CUSTOM DIGITAL MAP, PLEASE EMAIL YOUR SPECS & REQUEST A QUOTE.
YOU MAY WANT TO TRY USING THE
FREE OUTLINE MAP
AS A TEST, SEE HOW THE MAP PRINTS AND WORK IN YOUR PROGRAMS...