Thank you for visiting!
A Maps & Graphics Company-
Source of wall maps for your business...770-443-8808
For custom map inquiries
email your specs & contact info AND please type the word MAP in subject line, (prevents filtering) we will send you a quote and sample images.
Click "add to order" to place a map in your cart which will process orders on a secure server (SSL) as always, however...
on the shopping cart page please only Click checkout at bottom on right side, below your order. Grey row of menu links above the order don't link correctly following an "upgrade" in "Miva Merchant" and result in page not found error...

Of course you can call us! We are always glad to speak with a real live person! 770-443-8808
M-F 9:00am-6:00pm EST
to verify or place an order.
email to: amaps@amaps.com


UNITED STATES
WALL MAPS

REGIONAL USA SALES & MARKETING WALL MAPS
DIGITAL MAP images
Digital map images, several styles of printable maps for Professional Business Presentations,
Marketing and Logistics.
Choose from various maps of United States, USA Regions, and all the States.
Map images of the World, Continents, and more...hi-res color maps-.jpg images.
BUSINESS OFFICE WALL MAPS-NORTHEAST USA REGION
A MAP OF NORTHERN UNITED STATES FOR MARKETING, SALES & LOGISTICS
Map shows HIGH DETAIL including Counties, Cities & Towns, Interstate Highways, Federal Hwys, Major State Routes & Water Features.
scroll to end of page for detail zoom Map section...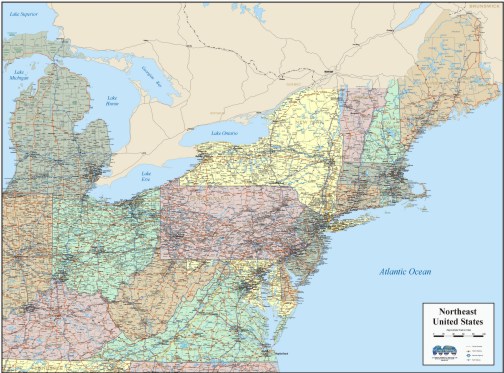 These are our standard region maps for sections or market areas in the USA. We can also create your region if you need a custom multi-state map
scroll down and click on THE FOLLOWING IMAGES FOR MORE DETAILS
**ADD YOUR COMPANY LOGO OR TITLE TO THE MAP LEGEND AT NO EXTRA CHARGE. ..SEND A QUALITY DIGITAL IMAGE FILE EMAIL ATTACHMENT (PRINTABLE RESOLUTION .jpg or .pdf)
PLEASE TYPE "MAP LOGO" & YOUR ORDER # IN SUBJECT LINE
Our Business Region Wall Maps are printed as ordered, please allow some business days for production & shipping. (And the occasional techno-gremlin) If you have demanding deadlines, call or email, we've been known to meet them.
ENLARGED SECTION OF MAP TO SHOW DETAIL...