Of course you can call us and speak to a live person!
770-443-8808


M-F 9:00am-6:00pm EST


For custom map request please send an email, with your specs & contact info so we can put together a quote and sample images for you.


U.S.A. MULTISTATE
MARKETING REGIONS


ATLANTA REGION BUSINESS PLANNING ZIP CODE WALL MAP


ZIP CODE MAPS

WORLD WALL MAPS


DIGITAL MAP images
We can email your Digital map images. Choose from various styles for each area, printable maps for professional proposals, super sales coverage expansion and marketing presentations, for website images and reports.
Map images of the United States, USA Sales Regions for marketing, 47 separate USA state maps. Continents, countries and World. Printable detail, high resolution. Choose from political-color by state or county, topographic-shaded by elevation, parchment look- antique colors, or white background and county outline maps.
GREAT LAKES STATES WALL MAP REGIONAL OFFICE MAP USA
MAPS FOR MARKETING, SALES TERRITORIES & LOGISTICS
Great Lakes area business wall map shows HIGH DETAIL including Counties, Cities & Towns, Interstate, Federal and major State Highways, Water Features.
Laminated for durability and erasable marking. Scroll down for details & zoom.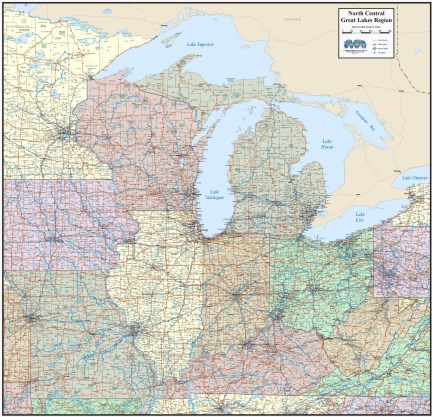 Our Region Wall Maps are printed and laminated as ordered, please allow for a few days in production and shipping. Thank You!
**ADD YOUR COMPANY LOGO OR TITLE TO THE MAP LEGEND AT NO EXTRA CHARGE. ..SEND A QUALITY DIGITAL IMAGE FILE EMAIL ATTACHMENT (PRINTABLE RESOLUTION .jpg or .pdf) PLEASE ADD "MAP LOGO" & ORDER # IN SUBJECT LINE
ENLARGED SECTION TO SHOW DETAIL...