State Laminated Wall maps designed for business office
NEW STATE OF GEORGIA WALL MAP FOR BUSINESS
Super detailed- NAMED MAJOR ROADS! Huge 54 x 72" Laminated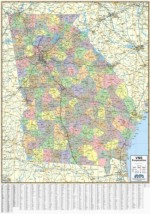 Showing Highways, Counties in contrasting colors,
Parks, Water Features, Surrounding States, Major Railroad lines,
Cities, Towns, Highway Exit Numbers. Counties and Cities
are index across bottom. Laminated both sides.
The most detailed commercial wall map ever made for the
State of Georgia, utilized by business and government offices.
Georgia State wall map same detail as above -highways, exits,
cities, counties, but without the major streets/roads.
Choose from 3 sizes and different background coloring.
OR ZIP codes
Same Laminated Wall map of Georgia also including ZIP codes
and their boundaries, with or without the highways.
Smaller size Georgia map Highways without the major streets 36 X 50" Laminated
NEW! WALL MAPS laminated, indexed by city, multi color counties
ALABAMA,
FLORIDA,
NORTH CAROLINA,
SOUTH CAROLINA,
TENNESSEE

5-Digit Zip Code Wall Maps for all 50 states and Every Metro area city in the USA!
Detailed, up-to-date marketing maps with zip codes are plotted per order from a unique custom GIS programmed database. These attractive and informative full-color wall maps are indexed and laminated. Available in SEVERAL sizes.
We can create Custom Maps From our own map database.
Map tacks/Pins, foam board mounting, laminating, custom framing
Large Maps Mounted on foam board and framed must be shipped by truck

Copyright A-Maps and Graphics
Phone: 770-443-8808 contact us