MAP OF GEORGIA STATE- VERY LARGE WALL MAP for EXECUTIVE OFFICE
LAMINATED WHITE OR COLOR COUNTIES, INCREDIBLY DETAILED
Local publication created by A Maps & Graphics, creating business maps in Atlanta area for over for over 35 years...
the most detailed large commercial map ever made for State of Georgia.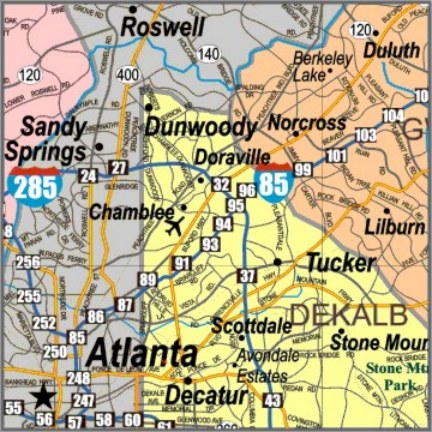 Ideal for all business mapping applications including marketing, distribution & delivery routes, franchise & sales territories, property location, service accounts & general reference. Includes the highway exit numbers, all state, federal and interstate highways, small towns, major parks, lakes, rivers, airports and more! Super detailed with named major streets/roads.

Even includes the major highways, cities and counties in the adjoining surrounding states including areas for Greenville/Spartanburg, Columbia, Charlotte, Chattanooga, Jacksonville, Tallahassee, Dothan, Panama City. Heat Laminated both sides.
NEW choice of different color style backgrounds!
AND...We can print your company logo on the map at no charge,
...just upload a high res jpg or pdf with your order.
WE ALSO HAVE A VERSION THAT IS LESS CLUTTERED in the same Large Size showing all the highways but without the finer detail of county roads and named major streets
AND choice of sizes smaller GEORGIA WALL MAP
ALSO, HERE'S SOME ATLANTA & GEORGIA PUBLIC INFORMATION LINKS...
Atlanta Regional Commission web site http://www.atlantaregional.net/
For transportation and traffic information- http://www.georgia-navigator.com