Of course you can call us and speak with a live person!
770-443-8808
M-F 9:00am-6:00pm EST
to verify or place an order you can also email mapwench@gmail.com
If you need a quote on a custom map, just email your specs and we will get back to you with a quote and sample images.

UNITED STATES WALL MAPS
REGIONAL USA SALES & MARKETING WALL MAPS
DIGITAL MAP images
NEW Digital map images.
Choose from even more styles
and colors of printable maps for
professional presentations and
reports.
Map images of the United States,
Multi-state USA Regions, all 50 States, Continents and World.
High resolution digital files of
beautiful color maps for sales
presentations, printing in a brochure or annual report, on your website, projector, school or home classroom, as home office decor.
GEORGIA STATE LARGE WALL MAP for EXECUTIVE OFFICE
CONTRASTING COLOR COUNTIES, INCREDIBLY DETAILED - highways and named major roads! Index of counties and cities
WITH INTERSTATE, FEDERAL AND STATE HIGHWAYS, EXIT NUMBERS, NAMED MAJOR ROADS, CITIES, TOWNS, LAKES, RIVERS, PARKS, COUNTY NAMES/BOUNDARIES & MORE,
INFORMATIVE, DECORATIVE AND PROFESSIONAL.

Georgia Detailed Large 48X68"$189.95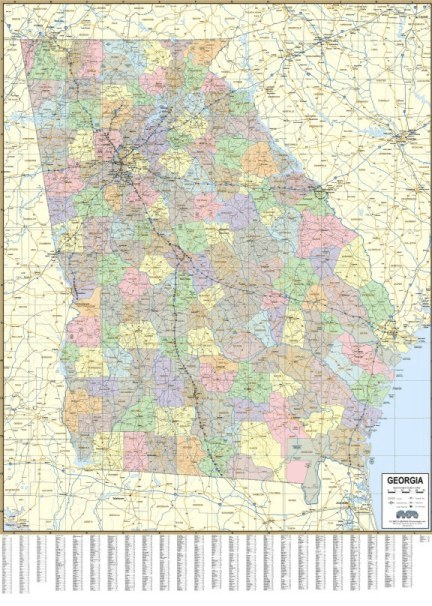 ZOOM IN SECTION- (check the detail)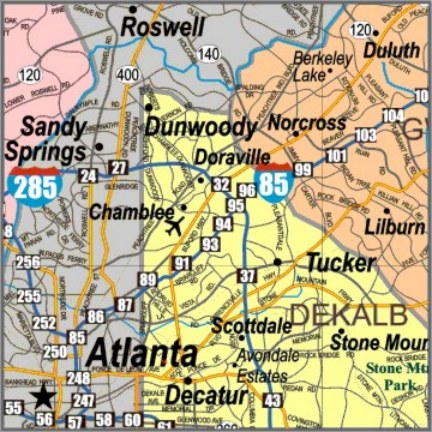 Local publication created by A Maps & Graphics, and quite possibly the most detailed large commercial map ever made for State of Georgia. We've been publishing business maps in Atlanta area for over for over 30 years.
Ideal for all business mapping applications including marketing, distribution & delivery routes, franchise & sales territories, property location, service accounts & general reference. Includes the highway exit numbers, all state, federal and interstate highways, small towns, major parks, lakes, rivers, airports and more! Super detailed with named major streets/roads. Even includes the major highways, cities and counties in the adjoining surrounding states including areas for Greenville/Spartanburg, Columbia, Charlotte, Chattanooga, Jacksonville, Tallahassee, Dothan, Panama City. Laminated 2 sides.
NEW choice of different color style backgrounds!
We can print your company logo on the map at no charge, just email a high resolution printable file.
WE ALSO HAVE A VERSION THAT IS LESS CLUTTERED in the same Large Size showing all the highways but without the smaller detail of county roads and named major streets
AND if you have limited space a SMALLER GEORGIA WALL MAP
ALSO, HERE'S SOME ATLANTA & GEORGIA PUBLIC INFORMATION LINKS...
Atlanta Regional Commission web site http://www.atlantaregional.net/
For transportation and traffic information- http://www.georgia-navigator.com