You can call us and speak with a live person!
770-443-8808 here in the USA
M-F 9:00am-6:00pm EST
To verify or place an order you can also email us. If you need a quote on a custom map, just email your specs and we will get back to you with a quote and sample images.

UNITED STATES WALL MAPS
THE most detailed USA wall map

REGIONS of USA
SALES & MARKETING WALL MAPS

Hardcopy WALL MAPS are
STILL important for business

Digital map images.
Choose from even more styles and choice of colors for printable maps that make professional reports and presentations.
Map images of the United States,
12 Multi-state USA Regions, all US States, Continents, Countries and World.
High resolution digital files of beautiful color maps for digital business presentations, projector, on your website, printing in a brochure or annual report, school or home classroom. Colorful maps also make useful and attractive home, home office, and office decor.
SPACESHOTS SATELLITE MAPS / SPACE PHOTO POSTERS
Welcome to the wonderful world of satellite viewing. Exceptionally clear and almost cloudless views of Earth, compiled from satellite digital data images from around the world as only astronauts have seen before!
ALSO CHECK (click here) OUT OF THIS WORLD PRINTS OF STARS, MOON, SPACE PHOTO IMAGES, PLANETS, GALAXIES...including the new MARS ROVER PRINTS!

HOLIDAY SPECIAL Give someone their favorite place in the universe
MOUNTED, LAMINATED AND FRAMED metal-gold, silver or black $199 INCLUDES CRATING AND SHIPPING in USA lower 48 states...
TO SEE MORE DETAILED IMAGE, DESCRIPTION and TO ORDER Spaceshots POSTERS, CLICK ON PICTURES BELOW
WORLD, COUNTRIES & CONTINENTS

USA, REGIONS & CITIES

THE LIVING EARTH 25X35"

BRILLIANT EARTH 35X24"

AUSTRALIA 32X25" 29.95

CANADA 36X26" 29.95


GEORGIA FROM SPACE 20X28"

MEXICO 32X24" 29.95

ATLANTA 20X28"29.95

SAVANNAH / JACKSONVILLE 24X36"

SOUTH/LATIN AMERICA 28X40"29.95

MIAMI FROM SPACE 24X36"

AFRICA 28x40" 29.95

HAWAII 36X24" $29.95

GRAND CANYON 40X28" $29.95



FRANCE 28X36"

DETROIT FROM SPACE 28X40"

EUROPE 40X28"

UNITED KINGDOM 24X34" 29.95

SOUTHERN CALIFORNIA 36X24"

SPAIN FROM SPACE 32X24"


SAN DIEGO FROM SPACE 24X36"

SAN FRANCISCO FROM SPACE 28X40"

ITALY 28X40"




NEW YORK CITY FROM SPACE 40X28"



GREAT LAKES REGION 32X24"

LOS ANGELES FROM SPACE 24X36"

WASHINGTON DC 28X40"

SEATTLE FROM SPACE 20X28"

The "online ordering" is still under construction for portions of our inventory, thank you for your patience.
Please call...
WE LIKE TALKING TO A LIVE PERSON!
toll free 888-344-3770
or in Atlanta, GA
770-443-8808
OR fill out the alternate order form... be sure to include a way to contact you - email, phone, etc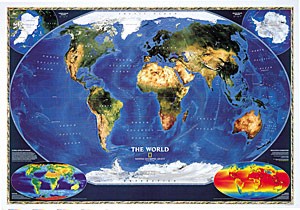 WORLD SATELLITE MAP
by National Geographic 43x30" ...$29.95