MEDIUM-SIZED ATLANTA REGION WALL MAP- 54x35"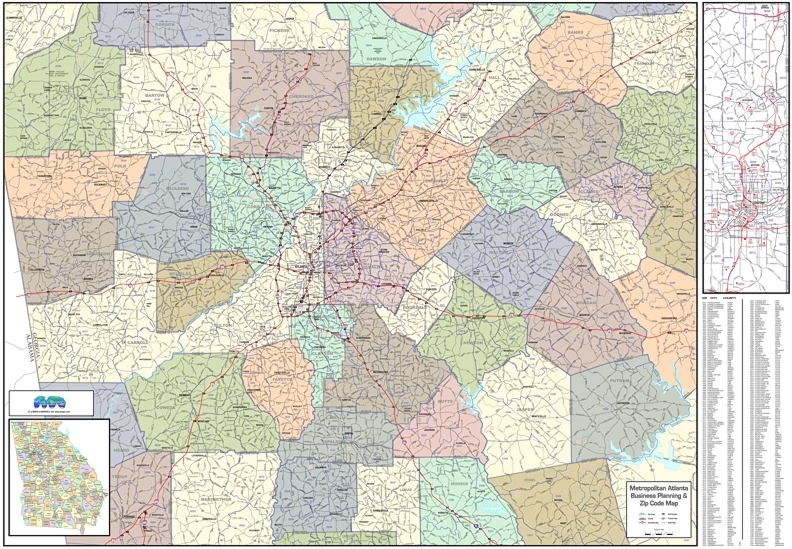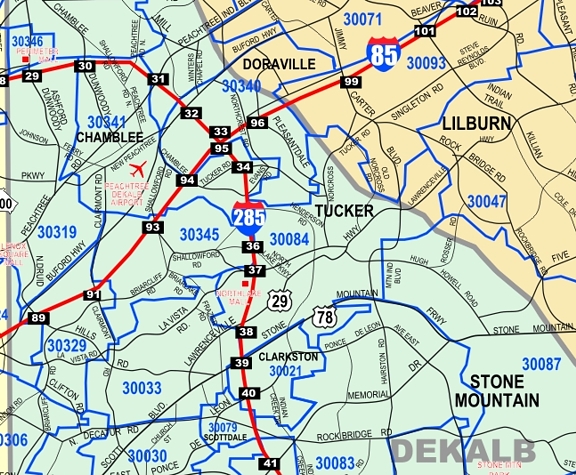 Need to take up less wall space? A little less area coverage

MEDIUM-SIZED ATLANTA REGION WALL MAP- 54x35"
SOME ATLANTA & GEORGIA PUBLIC INFORMATION LINKS...
City of Atlanta official web site
http://www.atlantaga.gov/how-do-i
http://www.atlantaga.gov/residents/city-directory
Atlanta Regional Commission web site -
http://www.atlantaregional.net/

For transportation and traffic information
http://www.ajc.com/traffic/
http://
www.wsbtv.com/traffic
State Dept of Transportation Web site
http://www.dot.state.ga.us
SEE THE "BIG PICTURE" WHILE KEEPING UP WITH DAILY DETAILS, SO YOU CAN FOCUS ON GROWTH AND WATCH WHERE YOUR COMPANY IS GOING, LITERALLY.
Large laminated wall map showing highways, major streets, counties, cities, interstates with exit numbers, and ZIP codes with boundaries. This Metropolitan Atlanta region business planning map includes the 29 county MSA-Standard Metropolitan Statistical Area, plus portions of 16 more counties. Map has insets for Downtown - Midtown - Buckhead, a small Georgia state map with counties/cities, and an index listing for city-county-zip code. Choice of multi-color by county, white background, or new contrasting neutral greige colors by county.
PERFECT FOR EXECUTIVE OFFICE, COMMERCIAL & RESIDENTIAL REAL ESTATE, SERVICE AND DELIVERY DISPATCH, GENERAL ROUTING, MARKETING RESEARCH, SALES MANAGEMENT, AND FRANCHISE TERRITORIES.
PRECISE PLANNING, ROUTING AND DEFINED TERRITORIES CAN INCREASE EFFICIENCY, WHICH WILL ADD EXTRA SALES OR SERVICE CALLS TO EACH BUSINESS DAY, AND EXPAND YOUR COMPANY'S PRODUCTIVITY AND PROFITS.