You can call and speak with a live person. 770-443-8808
M-F 9:00am-6:00pm EST USA
To verify or place an order you can also email us. If you need a quote on a custom map, just send us your specs and we will get back to you with a quote and sample images.

LARGE UNITED STATES MAPS
The most detailed USA wall map
United States COUNTY/CITY SERIES
MARKET MAPS
U.S. REGIONS SALES/MARKETING COUNTY/CITY WALL MAPS
Hardcopy WALL MAPS are
STILL important for business
Download Maps on sale 50% off! Regular $19.95 only $9.95 for any digital map!
Choose from styles / choice of colors for printable maps that make professional reports and presentations. High resolution map images for
United States
USA Regions
all US States
Continents
World
Countries
Digital image files of white or color maps for business presentations, projector screen, added to your company website, printing in a brochure or annual report, for study, school or home classroom. Colorful maps also make useful and attractive home, home office and office decor.

We are always adding more digital maps, so if you need an area that has not been added to our website, please contact us and if we have one, we can email it to you. Outline or blank maps are free downloads.
LARGE WALL MAP NORTHEAST USA REGION
EXECUTIVE SERIES PROFESSIONAL LAMINATED WALL MAP OF NORTHEASTERN UNITED STATES
FOR GENERAL REFERENCE, MARKETING ADMIN, COUNTY DATA, SALES TERRITORIES & LOGISTICS
"Hi Tracy, thanks again for the help with my map for the northeast.
I love it! Ashley will be needing some help with the south west section, what phone number is best for her to call you at?"
"I just received the map of the Northeast. I love it. Thank You,
John"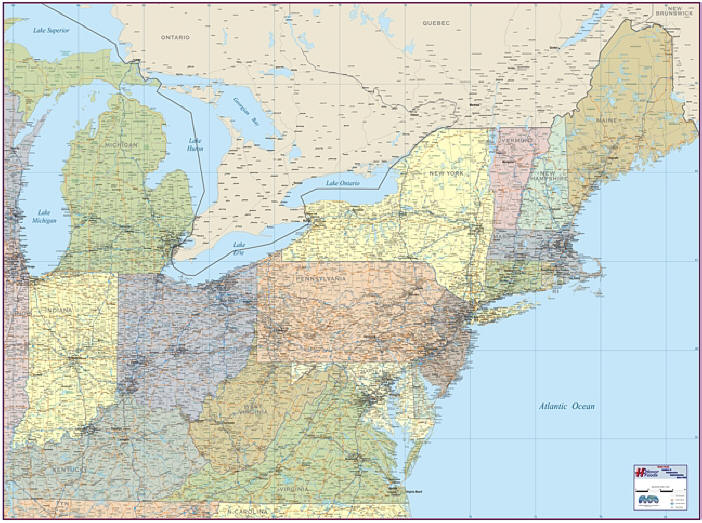 We can also create your specific sales region if you need a custom multi-state regional wall map.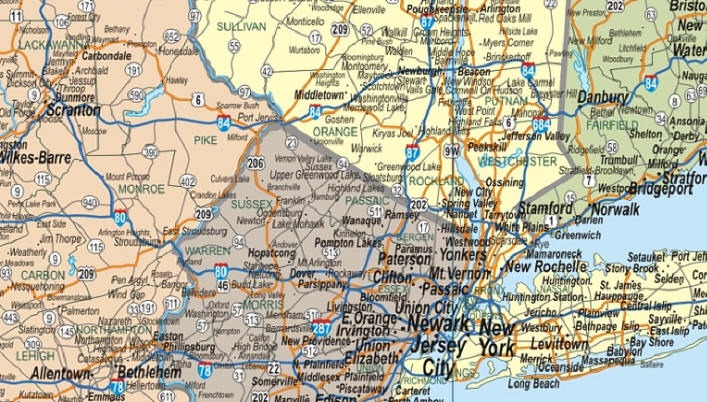 Our Business Region Wall Maps are printed as ordered, please allow a couple business days for production and shipping. If you have a demanding deadline, call and we will try our best to meet it for you.